Christ-Centered Educational Excellence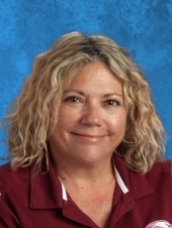 Lourdes Mastrocola
Instructor
Employed Since: 3/27/2017
3 Years Experience At School
Lourdes has been teaching in Duval Public County schools since 2002. Prior to that, she worked in the business world as an Accountant/ Business Manager. She also took some time off to help care for her elderly mother. During the 2016-2017 school year, Lourdes returned to the teaching profession here at CCA on a part-time basis because it was one of her passions in life. She feels blessed to join the CCA family once again, at a different capacity. Lourdes' youngest daughter attended CCA and Christ's Church has been her family's home church since 2002.
Lourdes is fluent in English/Spanish, conversational Italian, and a Hebrew student. She plans to learn Greek and as many other languages as possible. In the meantime, she says she is going to enjoy teaching Spanish to our CCA students and being a part of the CCA family, a second time around!
One of her other passions is to spread the Good News by being a servant leader, serving the community and impacting future generations with the love and message of Jesus Christ, our Lord and Savior. Peace and Blessings!